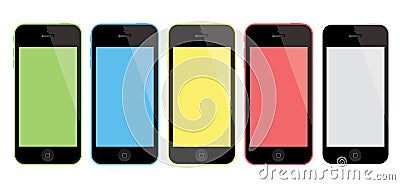 © Photographer: JH | Agency: Dreamstime.com
Apple on Tuesday, 10 September 2013 unveiled its new flagship iPhone 5S and a new budget smartphone, the iPhone 5C, as it seeks to attract more customers and revitalize interest in its devices. It will come in five colors — green, white, blue, red, and yellow. The screen wallpaper will match the exterior of the phone. The iPhone 5C will sport a 4-inch retina display, as well as an A6 chip inside.
Select any image presented here with its genuine color blank background. Additional vector file available!
Download the illustration NOW by clicking on the image or on this red link!